Kareena Kapoor Khan's appeal. (Photo courtesy: therealkareenakapoor / Instagram)
Kareena Kapoor Khan appealed to the people to be alert and alert in view of the frightening situation caused by the corona virus and said that the country needs you. Hence, follow the Covid-19 protocol.
Mumbai. The second wave of Corona virus has shaken the country badly. Bollywood actors are also making every effort to help in such times. Actor-actresses like Akshay Kumar, Ajay Devgn, Sunil Shetty, Kiran Kher are arranging oxygen cylinders and ventilators, while Kangana Ranaut and Karthik are appealing for people to get the vaccine. Sonu Sood has become a real life hero by helping. Sonu Kovid-19 is continuously providing medical facilities to the patients. In this episode, Bollywood actress Kareena Kapoor Khan has posted to make people aware to save their lives. On her Insta story, Kareena has written- 'Even in this time of crisis, there are many people in our country who are not understanding the seriousness of time. The next time you get out of the house, you will definitely think about the doctors and medical staff of the country, while putting a mask near Chin and breaking the rules. These people have reached the verge of breakdown physically and mentally. Every person reading this post is responsible for breaking the chain. Above all, India needs you '.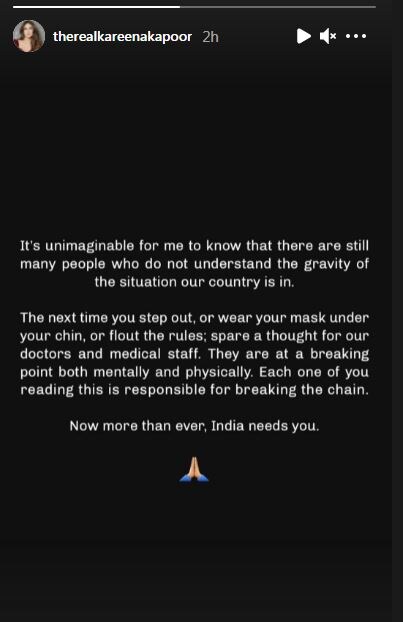 Apart from this, by sharing the map of India on Instagram, a poster written for Pre India has been shared. Along with this, Kareena Kapoor has written in the post that 'As a country we are facing the challenge of Kovid-19 these days. Let us all pray to God for protection and strength. Pray for those who have lost their loved ones, those who are suffering '.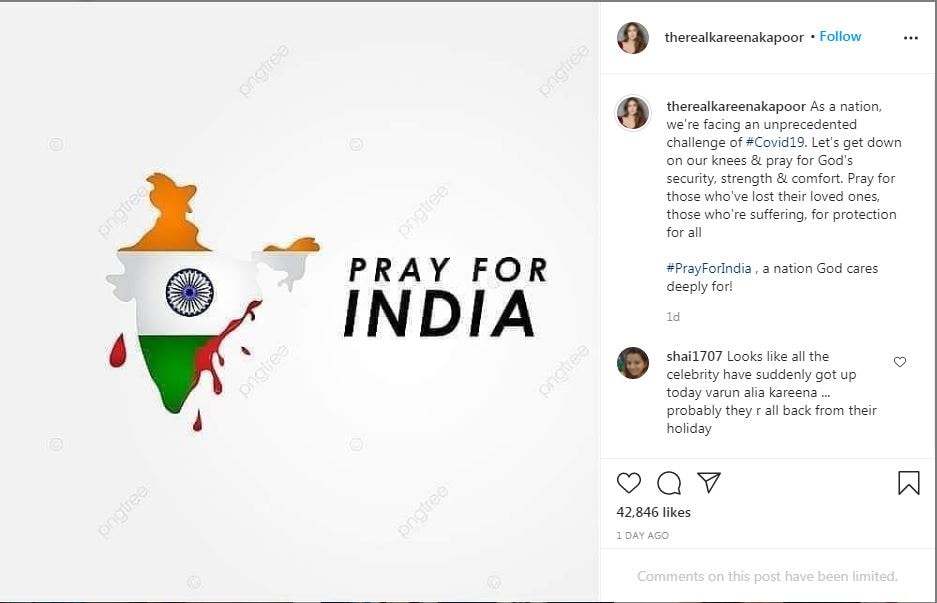 Talking about the work front, Kareena Kapoor Khan's upcoming film is 'Lal Singh Chadha'. Aamir Khan opposite Kareena in this film. Apart from this, Karan Johar's 'Takht' is also in the pipeline. The film stars Jahnavi Kapoor, Ranveer Singh, Alia Bhatt, Vicky Kaushal, Bhumi Pednekar and Anil Kapoor.