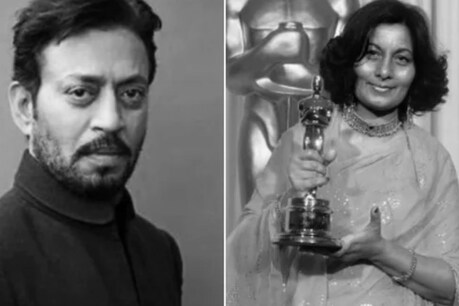 Irrfan Khan and Bhanu Athaiya.
93rd Academy Awards: At the beginning of the Oscars, tributes were paid to all the renowned artists, producers, directors, who have died all over the world, including Irrfan Khan and Bhanu Athaiya from India. Was included in the segment.

Mumbai :
Indian actor Irrfan Khan and India's first Oscar award-winning costume designer Bhanu Athaiya were honored at the 'Smriti' section of the 93rd Academy Awards ceremony. Like every year, the Academy Awards recalled the legendary film stars who have died in the last one year in a three-minute 'In Tributes Montage' (video collage of photos). Apart from Irrfan Khan and Bhanu Athaiya, Chadwick Boseman, Sean Connery, Christopher Plummer, Olivia de Havilland, Kirk Doglas, George Segal, director Kim Ki Duck, Max Von Saidou and others have also posted pictures via Remembered in section.
Irfan Khan (54), one of the veteran actors of India, died on 28 April last year in a hospital in Mumbai while fighting a rare cancerous disease. Bhanu Athaiya had brain cancer and was at the age of 91 He died in his home on October 15 last year after an illness. He won the Oscar for Best Costume Design for 'Gandhi', a biopic on Richard Attenborough's Mahatma Gandhi in 1983. The film received eight Oscars. Ben Kingsley played the role of Mahatma in the film, for which he received the Oscar for Best Actor. Athaiya returned his Oscar award to the Academy of Motion Picture Arts and Sciences in 2012 to preserve the award. The Academy also recalled actor Soumitra Chatterjee, although he was not mentioned in the video.