Priyanka Chopra – Effective Vaccine for Corona Virus. (Photo courtesy: priyankachopra / Instagram)
Priyanka Chopra (Priyanka Chopra) through her social media posts is drawing the attention of people towards the Covid-19 (Covid-19) epidemic spread in India. Appealing for help in tackling the vaccine shortage in the country, the actress has tweeted a tweet.
Mumbai.
India is struggling badly with the second wave of Corona virus (Second Wave of Corona).
Priyanka Chopra
Posting social media has demanded vaccine for the country. A Twitter user also posted Priyanka's attention. The user said that you should also pay attention to the lack of hospital beds and oxygen supply. Focus your attention on these facilities instead of the vaccine. On this, Priyanka gave her the right answer. Tweeting Priyanka Chopra, a social media user wrote that 'more people need oxygen, beds, ventilators, oxygen concentrators than vaccines at this time. India can manufacture vaccines. You should focus your attention on the current need '. On this post, Priyanka wrote while replying – 'Yes, all these tools are needed to save life. Collective immunity needs to be created to prevent the spread of corona virus in India, which can only be done by vaccine.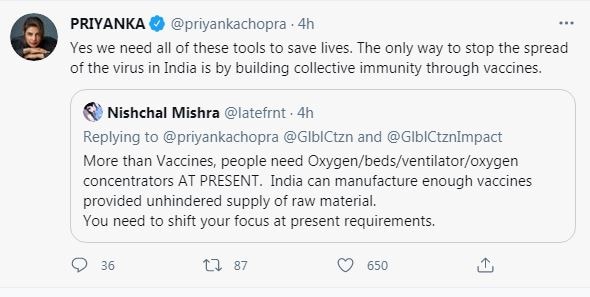 Let me tell you, Priyanka Chopra had recently sought help from America by tweeting for the help of India struggling with vaccine crisis. Priyanka had posted that 'my heart is breaking. India is currently battling Kovid-19 and the United States has ordered more than 500 million vaccines. Thanks to President Biden, Secretary Blinken and Jack Sullivian Astragenica for their worldwide vaccine. But, the situation in my country is critical. Will you immediately share the vaccine with India? "Let us know that there is a continuous talk about the vaccine. In the midst of the Corona crisis, many countries have come forward to help India. PM Narendra Modi has also spoken to Russian President Vladimir Putin. India has been assured of supply of Corona Vaccine Sputnik-V from Russia. It is being said that the supply of this vaccine will start in the country from May 1.