Bollywood actor saddened by shooter Dadi's death. (Photo courtesy: Instagram / bhumipednekar / Twitter)
International shooter Dadi Chandro Tomar was also swallowed by the Corona virus. On his death, Taapsee Pannu, Bhumi Pednekar, Kangana Ranaut and Randep Hooda shared memorable photos.
Mumbai :
Famous Chandro Tomar (Chandro Tomar) by the name of shooter Dadi was admitted to the hospital on Tuesday after having trouble in breathing. Where he was shifted to ICU after the situation deteriorated. The corona-infected grandmother breathed her last at Anand Hospital in Meerut at the age of 89. Chandro Tomar hit Corona on 26 April. A film called 'Sand Ki Aankh' was recently made on shooter Dadi. Because of this film, Bollywood actresses like Taapsee Pannu and Bhumi Pednekar had become very close to her. Taapsee Pannu played the role of shooter Dadi in the film. Taapsee Pannu shared a throwback photo with Chandro Dadi on Twitter account and wrote, 'You will always be an inspiration … You will always be alive among the girls you showed hope to live. May my sweetest rockstar, may your soul rest in peace ".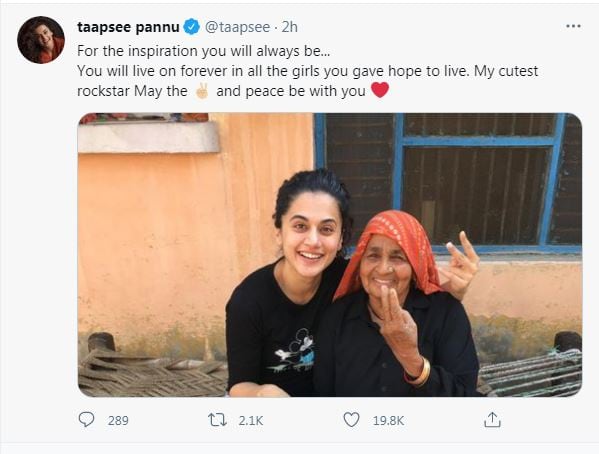 At the same time, Bhumi Pednekar shared several photos with him on his Instagram account and wrote an emotional post and paid tribute. Wrote 'I am very hurt by the accidental demise of Shoot Chandro Dadi'. It seems that someone of mine has gone away. He lived a life of greatness. There was a precedent for the other. His legacy will continue through the girls who have adopted him as a role model '.
Kangana Ranaut wrote a retweet to golfer Arjun Bhati's tweet, "No please no …"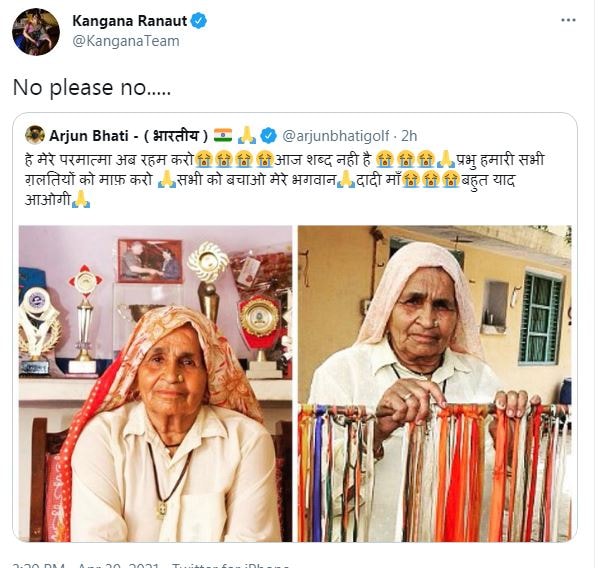 On the other hand, actor Randeep Hooda shared his grandmother's photo and tweeted, 'Mehari Chandro Daadi Gaya'.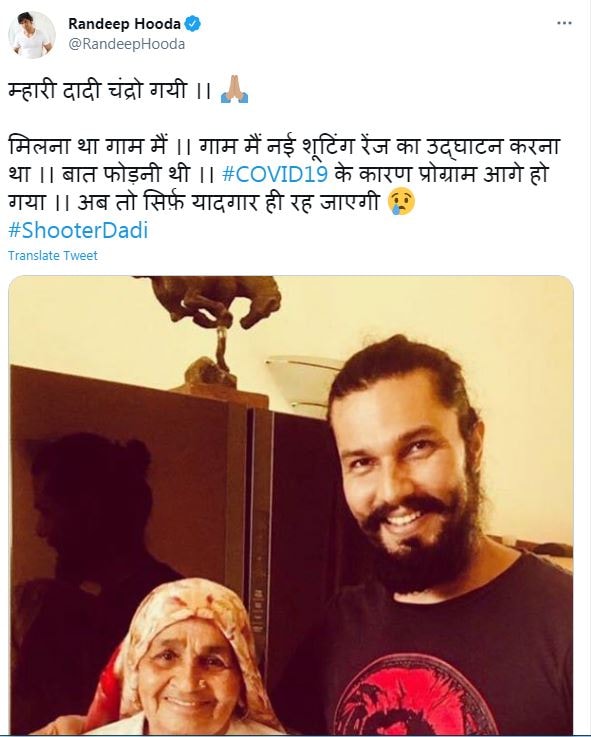 Please tell that Chandro Tomar started his career in shooting at the age of 60 and was successful in winning many competitions at the national level. Chandro Tomar also had a tremendous performance in international tournaments. He was rated as the oldest shooter in the world. The grandmother received the Presidential Award for Stree Shakti Samman. Shooter Dadi was a resident of village Johri in Uttar Pradesh's Baghpat district.