Indian cricket team captain Virat Kohli has got the Corona vaccine installed. Virat gave information about this by sharing a photo on Instagram Story. While sharing the photo, he has appealed to the people to get the vaccine as soon as possible. Earlier on Monday, Indian cricketer Ishant Sharma also got the Corona vaccine installed. He shared a photo on Instagram with wife Pratima Singh. He wrote, "Appeal to all of you to get the Corona vaccine as soon as possible."
Virat Kohli recently started a campaign to collect funds to help people. Virat and his wife Anishka appealed to the people to contribute as much as possible in this campaign. At the same time, people helped openly on this couple's appeal. On Friday, Virat and Anushka started the campaign with a contribution of two crore rupees. He also appealed to his fans to come forward to help people in difficult times. After which an amount of 3 crore sixty lakh rupees was collected in Kovid 19 Relief Fund within just 24 hours.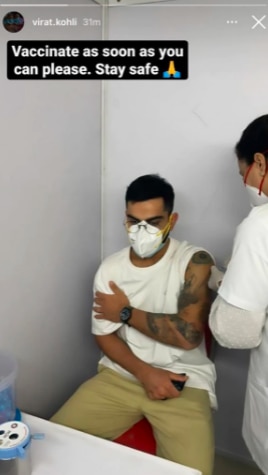 These players also installed Corona vaccine
Before Virat and Ishant, Indian Test team vice-captain Ajinkya Rahane, along with his wife Radhika, conducted the first dose of the Corona vaccine. He also shared a picture of it on social media. Earlier, Indian cricket team opener Shikhar Dhawan had installed the Corona vaccine. Let me tell you that at this time the campaign to apply the Corona vaccine is going ahead at a rapid pace. Till now, Corona vaccine has been applied to millions of people. The government has started the initiative to get Corona vaccine given to all people above the age of 18 from May 1. So far, after installing all the celebrity vaccines, people have appealed to people to come forward for this. Virat, Rahane and Dhawan have also appealed to the people to get the vaccine as soon as possible.
read this also :-
Saudi Arabia said- solve the issue of Jammu and Kashmir with India-Pakistan talks
NASA Recorded Ingenuity Helicopter-like Sound on Mars, Released Video