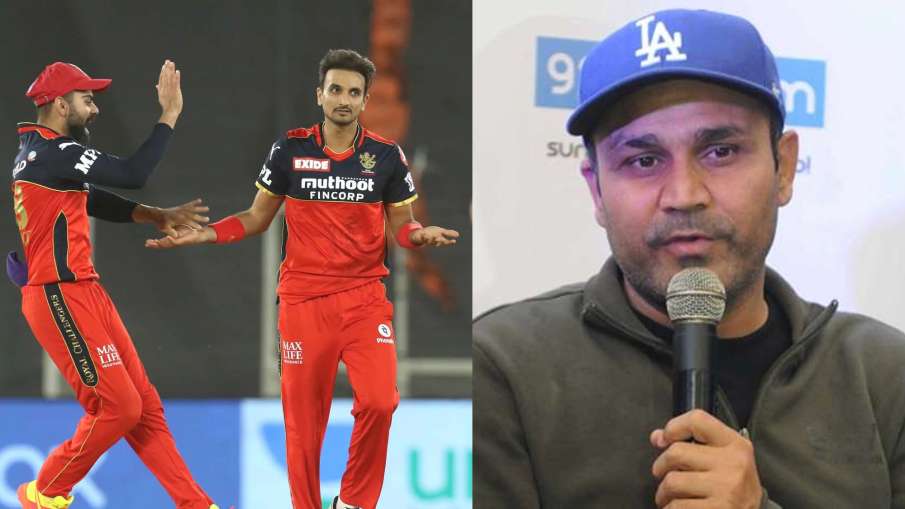 Royal Challengers Bangalore won their 5th match of IPL 2021 on Tuesday night by defeating Delhi Capitals by one run in a thrilling match. In this victory, RCB bowler Harshal Patel contributed once again with two wickets. Harshal is bowling well this season and with 17 wickets in 6 matches, he is also the highest wicket taker this season.
Against Delhi, Harshal got his team back in the match by dismissing Prithvi Shaw and Marcus Stoynis at crucial times. However, former Indian opener Virender Sehwag feels that Harshal Patel did not bowl much in the match that the Luck factor was with him.
Sehwag told Cricbuzz "The form he is in bowling and the luck he has with him. Stoinis was out for 12 in the over in which he was dismissed, it was not even possible to be dismissed in that over. He came in playing the shot. He might have got a wicket today because of Luck who is not with Harshal Patel. "
He went on to say, "He did not bowl any ball, he had to bowl a wide slow ball to Prithvi Shaw and Shaw ran after that ball to kill. Well when luck happens, it is like 'Allah Clement then Donkey Wrestler!' "That saying fits right."
There was a small storm at the Narendra Modi Stadium after the RCB innings was over. There was no loss due to this storm, but RCB definitely benefited. Actually, it was expected that due to the second inning, the du would play an important role, but due to the arrival of the storm, there was no dew on the ground.
Ashish Nehra said about this "It is absolutely clear that you won by one run. Rishabh Pant batted poorly or the way his strategy was. Apart from this, there are a lot of things that have been in favor of RCB. If DU would have So Pant, who was taking one or two runs, would have been stung in the middle of mid-wicket or mid on. Dew makes a big difference. Dew today gave RCB two points with a one-run win. "